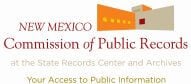 New Mexico State Archives
Ancestry.com.
New Mexico, U.S., World War II Records, 1941-1945
[database on-line]. Provo, UT, USA: Ancestry.com Operations, Inc., 2015.Original data:
New Mexico Council of Defense. WWII Records Library, Series 18.3. New Mexico Adjutant General Records, Collection 1973–019, New Mexico State Records Center and Archives, Santa Fe, New Mexico.
About New Mexico, U.S., World War II Records, 1941-1945
New Mexico contributed greatly during World War II. Some New Mexicans served as Navajo Code Talkers, while members of New Mexico's 200th and 515th Coast Artillery regiments fought bravely in the Battle of Bataan. Those who were taken prisoner faced the Bataan Death March. Of the 1,816 men in those regiments, only 987 survived the Battle of Bataan and its aftermath.
This collection includes a variety of records related to New Mexicans' service during World War II. Included are enlistment records, military discharges, photographs, and service records.
The service records usually consist of biographical questionnaires that include the serviceman's name, residence, date and place of birth, parents' full names (including mother's maiden name), ethnicity, names and places of schools attended, whether married, wife's maiden name if married, names of children, civilian occupation, and the name and address of the person who filled out the form (typically a relative). This questionnaire is often followed by personal correspondence and other documents about the soldier.
Discharges and notices of separation offer similar information. They can include name, arm of the service and organization, rank and classification, place and character of separation, permanent address after separation, residence upon entry to the service, draft board, date of entry into service and method (drafted, enlisted, or commissioned), race, gender, marital status, citizenship, date and place of birth, record of service, honors and medals awarded, pay rates, employment and educational information.
Enlistment lists include the name of the enlistee, the board where he enlisted, order and serial number, race, birthdate, marital status, and number of children.
Photographs include formal portraits and more informal pictures.