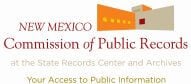 New Mexico State Archives
Ancestry.com.
New Mexico, U.S., Civil Records of New Spain, 1621-1821
[database on-line]. Provo, UT, USA: Ancestry.com Operations, Inc., 2016.Original data: Spanish Archives of New Mexico, Series 2. New Mexico State Records Center and Archives, Santa Fe, New Mexico.
About New Mexico, U.S., Civil Records of New Spain, 1621-1821
Santa Fe, established in the early 17th century, boasted an estimated Spanish population of 2,500 by 1680. During its history, the city has been capital of the Spanish Kingdom of New Mexico, the Mexican province of Nuevo México, the American territory of New Mexico (present-day Arizona and New Mexico), and the state of New Mexico. During these periods, the people in the area left a rich legacy of records, many of which survive in the Spanish Archives of New Mexico.
Nearly destroyed by fire in 1892, the records were translated and put in a calendar by Ralph Emerson Twitchell and published in 1914. His work served as the basis for the Calendar of the Microfilm Edition of the Spanish Archives of New Mexico, 1621–1821. The calendar includes names and descriptions (in English) of the wide variety of documents that can be found in this collection, with "Twitchell numbers" linking items in the calendar to images of the actual record. Ancestry has digitally scanned the records from the originals, improving the quality of the images when compared to earlier scans. Records in this collection are searchable only by keyword and date.
In the prefatory note of The Spanish Archives of New Mexico, volume one, Twitchell describes the collection.
"These archives are by far the most valuable and interesting of any in the Southwest, not excepting those of California. Here we find reflected the home and business life of the early settlers. In the expedientes, testimonios, and other papers, a number of which have been translated and given in full, are disclosed the pride of ancestral achievement in the conquest and pacification of the country; recitals of Indian campaigns, usages, methods of defense, the erection of forts and towers in exposed localities on the Indian frontiers; customs, civil and military; names of officers in all branches of the service; the respectful regard for the rights of the Pueblo Indians relative to their land holdings; the efforts to win over the hostile tribes and convert them to the Catholic faith; the deference for the ecclesiastics; official admonitions, wills and testaments, slaves and slavery, laws and customs, forms of official procedure, census returns; in fine, almost everything necessary for a study of the lives, manners, routine, dress, and daily occupations of the people during a period of more than two centuries. The will of General De Vargas exemplifies in many ways the picture of official life at Santa Fe; the manners of dress, the home life, the use of elaborate plate, the wearing of resplendent jewelry, the affection bestowed upon his intimates, all are found in this notable document."