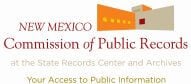 New Mexico State Archives
Ancestry.com.
New Mexico, U.S., World War I Records, 1917-1919
[database on-line]. Provo, UT, USA: Ancestry.com Operations, Inc., 2014.Original data: New Mexico Council of Defense. World War I, Series 18.1. New Mexico Adjutant General Records, Collection 1973-019. New Mexico State Records Center and Archives, Santa Fe, New Mexico.
About New Mexico, U.S., World War I Records, 1917-1919
When the U.S. entered World War I, New Mexicans had recently been involved in hostilities closer to home. The Mexican Punitive Expedition, launched to capture Pancho Villa, formally ended in February 1917, just two months before the U.S. declared war on Germany. The New Mexico National Guard was once again called into service, along with troops from across the U.S. This collection from the Adjutant General of New Mexico contains a diverse array of records documenting the state's service in the "war to end all wars."
Among the rich records in this collection, you'll find
service records
biographical materials
letters
casualty lists
awards and commendations
photographs