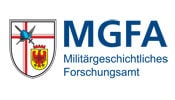 Military History Research Institute
Ancestry.com.
Germany, State Government Directories, 1802-1929
[database on-line]. Provo, UT, USA: Ancestry.com Operations, Inc., 2010. State government directories selected from the MGFA collection. Militärgeschichtliches Forschungsamt (MGFA). Potsdam, Germany.
About Germany, State Government Directories, 1802-1929
Available from the Military History Research Center of the German Armed Forces (Militärgeschichtliches Forschungsamt der Bundeswehr or MGFA) in Potsdam, Germany, this collection of 50-plus directories includes a range of German state government records between the years of 1801 and 1928. Generalized volumes recording officers of German military branches and state government officials, such as the royal family are included. The genealogist may be able to locate names of ancestors active in German military campaigns or history specific to a place or time period close to that of their ancestors in this database. The location field will return search results for the city where content was published. To search for a location name, enter it in the keyword field.
Information that may be found in this database:
Surnames
Regiments and Units
Officers' Lists
State Calendar
Royal Officials