The DNA test that tells a more complete story of you.
AncestryDNA provides richer connections to people, places, and possibilities.
5 million people have learned more about themselves.
Are you next?
The largest DNA network in the world has helped more people find the story in their DNA. Discover yours—and learn who your ancestors were and where they came from.
From discovering their ethnicity to connecting with distant relatives, the largest DNA network in the world is helping more people find the singular story in their DNA. Yours is just as unique, revealing traces of your family history—who your ancestors were and where they came from.
Nigerian? Scandinavian? What are you?
AncestryDNA can estimate your origins to 26 ethnic regions, 9 in Africa alone—more than anyone else. And we've got Europe covered 9 ways.
covered by the AncestryDNA test.
A Comprehensive Map of AncestryDNA Ethnicity Regions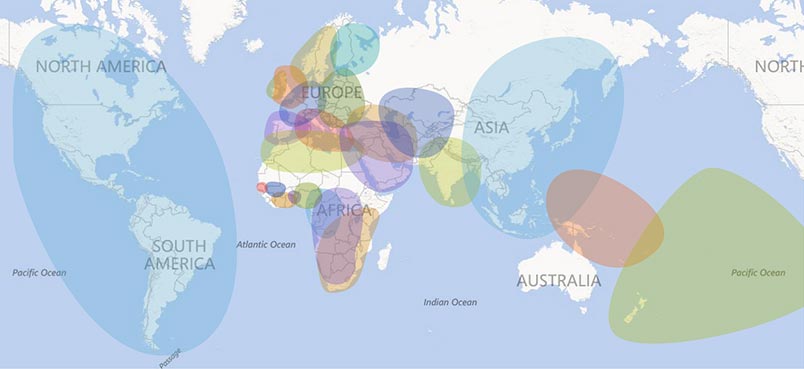 Europe
Europe East
Europe West
European Jewish
Finland/Northwest Russia
Great Britain
Iberian Peninsula
Ireland
Italy/Greece
Scandinavia
Africa
Africa North
Africa South-Central
Hunter-Gatherers
Africa Southeastern Bantu
Benin/Togo
Cameroon/Congo
Ivory Coast/Ghana
Mali
Nigeria
Senegal
Asia
Asia Central
Asia East
Asia South
Genetic Communities™ takes you deeper into your story.
What if you could learn you're not just Irish, but related to the Ulster Irish? Or descended from the Acadians in Louisiana? Now you can, with specific details that connect you to the people, places, and migration paths in your family story. Find out who your ancestors were, what bonded them over generations, and why and where they migrated—all from your DNA.
Learn more
Go deeper into your story with Genetic Communities™.
This breakthrough new experience can help you find out more about the people, places, and migration paths in your family history.
Who are your people?
Connect to living relatives who share parts of your DNA—and use 80 million Ancestry family trees to fill in pieces of your family history.
You'll also be connected to living relatives who share parts of your DNA. And since Ancestry has the unique ability to bring together DNA results with 80,000,000 family trees and billions of historical records, we can also help you fill in pieces of your family history.
The best stories come from the best science.
We've amassed the most diverse DNA collection on earth so we can use our latest science to compare your DNA to a range of people around the world.
How does AncestryDNA find your story? We've amassed the most diverse DNA collection on earth so we can use our latest science to compare your DNA to people all over the world—from small tribes in Africa to farmers in the Irish countryside.
What are you? What are you? What are you?"
Growing up, Lezlie had always encountered curiosity about her ethnicity from people she'd meet. "I probably got the question 3 to 4 times a week if I was Asian or Moroccan or something else," she shared. So she jumped at the opportunity to find out through AncestryDNA.
And it turns out, Lezlie's DNA results did include African, European, and Asian. "It was great because it helped confirm what I knew in my gut… with a little surprise."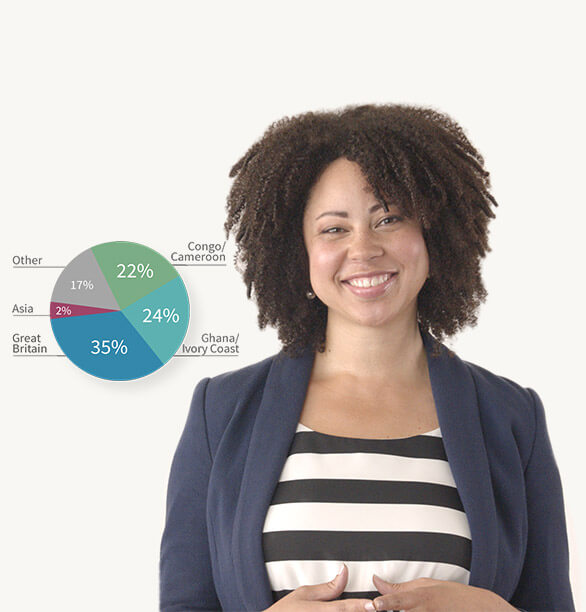 So I traded in my lederhosen for a kilt."
Growing up, Kyle's family was German, no doubt about it. He even grew up wearing lederhosen in a German dance troupe. But when Kyle began building his family tree, he couldn't actually find any German ancestors.
"So I decided to have my DNA tested, and the big surprise was we're not German at all," he says. And soon enough, Ancestry Hints led him to generations of Scottish ancestors.
What surprises are hiding in your family tree?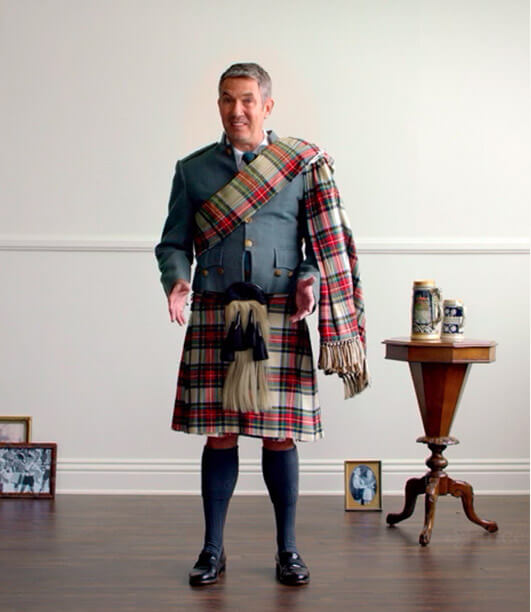 I thought I had married an Italian?"
Marrying into Eric's family, Katherine was told of a rich Italian family history—"My lineage was all Vecchios and the Zuccolis," according to Eric. But when Eric's AncestryDNA results said he was only 16%, Katherine took on the search and discovered an Eastern European ancestor he never knew he had.
Katherine and Eric used both AncestryDNA and a family tree to solve their mystery—how will you begin your journey?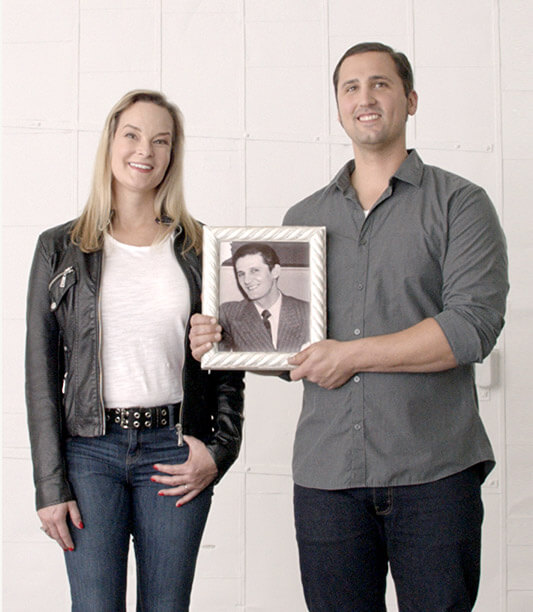 Have questions?
Get answers to some common questions.
Your privacy is important to us. We use industry standard security practices to store your DNA sample, your DNA test results, and other personal data you provide to us. In addition, we store your DNA test results and DNA sample without your name or other common identifying information. You own your DNA data. At any time, you can choose to download raw DNA data, have us delete your DNA test results as described in the AncestryDNA Privacy Statement, or have us destroy your physical DNA saliva sample. We do not share with third parties your name or other common identifying information linked to your genetic data, except as legally required or with your explicit consent.

For more information on privacy at AncestryDNA, see the AncestryDNA Privacy Statement and visit our Privacy Center.

AncestryDNA is a cutting edge DNA testing service that utilizes some of the latest autosomal testing technology to revolutionize the way you discover your family history. This service combines advanced DNA science with the world's largest online family history resource to predict your genetic ethnicity and help you find new family connections. It maps ethnicity going back multiple generations and provides insight into such possibilities as: what region of Europe are my ancestors from, or am I likely to have East Asian heritage? AncestryDNA can also help identify relationships with unknown relatives through a dynamic list of DNA matches.

Your AncestryDNA results include information about your ethnicity across 26 regions/ethnicities and identifies potential relatives through DNA matching to others who have taken the AncestryDNA test. Your results are a great starting point for more family history research, and it can also be a way to dig even deeper into the research you've already done.

The AncestryDNA test may predict if you are at least partly Native American, which includes some tribes that are indigenous to North America, including the U.S., Canada and Mexico. The results do not currently provide a specific tribal affiliation. (Please note that your AncestryDNA ethnicity results cannot be used as a substitute for legal documentation.)

AncestryDNA is a simple saliva test you can do in the comfort of your own home. Once you order, you will receive the AncestryDNA kit in the mail in a matter of days. Your AncestryDNA kit includes full instructions, a saliva collection tube, and a pre-paid return mailer (so you don't have additional costs to return your DNA.) After returning your sample by just dropping it in the mail, your DNA is processed at the lab. You then receive an email notifying you that your results are ready to explore on the AncestryDNA website.

AncestryDNA is the leader in DNA testing for family history and includes more than 5 million people who have taken the AncestryDNA test as well as the ability to access Ancestry, the world's largest online family history resource, which includes millions of family trees and over 20 billion historical records.

Your AncestryDNA test results will normally take about 6-8 weeks to process from the time that the lab receives your DNA sample. Due to high demand, results may take longer than 8 weeks. Please note that you must also activate your DNA kit online in order to begin processing.

When your AncestryDNA results are ready, you will receive an email from AncestryDNA notifying you, with a link to view your results. Your results will also be available online in your password-protected AncestryDNA account.

The AncestryDNA test uses microarray-based autosomal DNA testing, which surveys a person's entire genome at over 700,000 locations, all with a simple saliva sample. Additionally, the new online interface integrates state-of-the-art tools for you to utilize your DNA results for family history research.

Yes, both women and men can use AncestryDNA since we all carry the DNA that is being tested. In fact, men and women are tested in the same way for the same number of markers. Unlike some other DNA tests, which only analyze the Y-chromosome (and can only be taken by a male to look at your direct paternal lineage) or mitochondrial DNA (can be taken by a male or female but only looks at your direct maternal lineage), AncestryDNA looks at a person's entire genome at over 700,000 locations.
Get started in a few simple steps.
Order a kit with easy-to-follow instructions.

Activate your kit and return your saliva sample in a prepaid package to our state-of-the-art lab.

In roughly 6-8 weeks your results will be ready online.

Note: lab processing times may be increased due to high demand.
*Price excludes applicable taxes and shipping costs.