September 4, 2013
Ancestry is continuing to improve the search experience and today we are happy to announce some of the first changes to our search functionality. We received more than 10,000 survey responses (thanks to the many of you who took the recent survey) and by far, the most popular features in the old search experience among old search users were the ability to view search results grouped by category and the availability of a simple search form with an exact option.
In response to this feedback, we're adding a new "Category exact" mode to the current search experience. This new feature:
offers a simple search form with a "match all terms exactly" option
allows you to specify a range of years for your search
displays results in a categorized view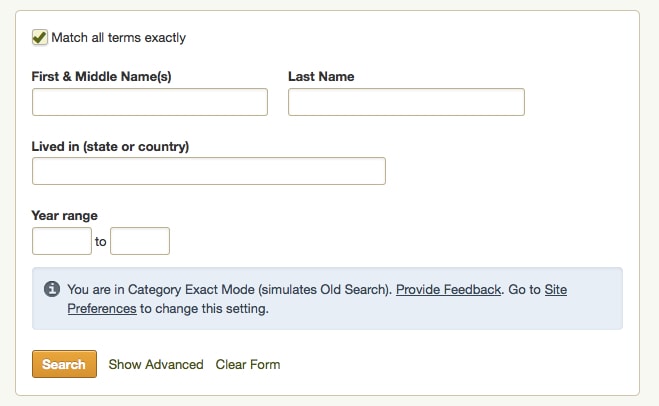 To use this new feature, update your Site Preferences to select "Category exact mode" in the Search Preferences at the bottom of the page. You can view or change your current Site Preferences by clicking on your user name at the top right of any Ancestry page, or view this support knowledge base article for more information.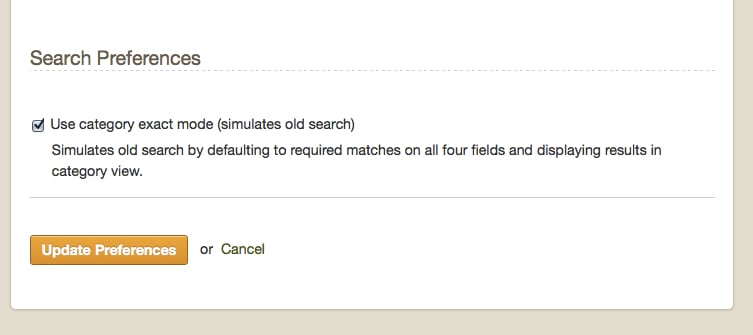 Please try this new feature and let us know how well it helps you use the current search experience more effectively. A link for feedback will be available in simple form on the search home page, once you select the category exact mode.
We're continuing to review the survey responses to identify the best features of old search to consider for the current search experience. We'll communicate those changes with you through email or the Ancestry message boards and blogs. Thank you for your continued willingness to help us improve Ancestry.