Fold3 is an Internet service that lets its users conduct historical research by searching, reviewing and archiving any of our rich variety of digital historical resources. At Fold3, history is also interactive. Users may create Memorial Pages and, using our tools, annotate historical documents, provide commentary, and post their own historical documents for others to view. Fold3 is committed to helping you protect your privacy by providing you with an environment in which you have trust and confidence when you disclose and share information with us and other users of Fold3. As a result, you can control how much personal information is shared with other users by managing your settings as described below.
We also encourage you to read the Ancestry Privacy Statement, which explains in more detail how the Ancestry family of websites collects and processes personal information.
1. Managing your Account Information
When you first create your Fold3 account, you will be asked for your email address and password. We create a Member Name based on your email address, which you can change on the registration confirmation page or by following the instructions below. That Member Name will be seen by other users, but you can control how much other information other users can see by going to your Account Details page located at https://www.fold3.com/account/.
Fold3 Account Details Page: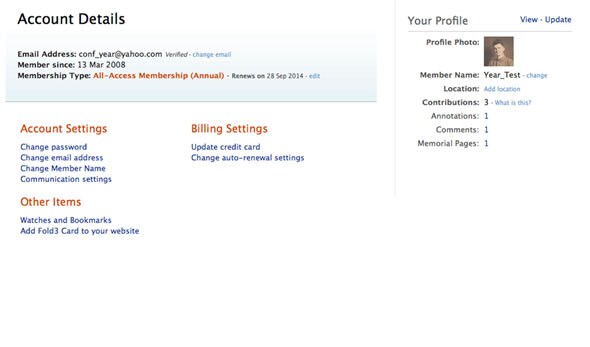 Member Photo: You can choose to upload a photo for your Fold3 member profile. You are not required to include a photo on your profile, but if you do so, other users of Fold3 will be able to see it. You can upload, change, or remove your photo by clicking the photo next to "Profile Photo" on the Account Details page and following the instructions there.
Communication Settings: Under "Account Settings," you can see and manage your email and other contact settings by clicking "Communication Settings." You can pick the types of email communications you receive from us, including "This Month in History"; "Content Updates"; "Fold3 Finds"; "Tips of the Month"; and "Fold3 special offers". You can also choose whether to allow other Fold3 users to contact you. If you allow other members to communicate with you, the message will be sent through the site, and we will not show other members your email address. If you reply to a message sent from another member through the site, you will be replying from your email and your email address will show.
Other Account Settings: You can also change your email address, password, and Member Name by clicking on the respective links under "Account Settings."
Adding/Changing Profile Information: You can change your public Member Name and add other information, such as your geographical location and anything else you want to let others know about you by clicking "Update" next to "Your Profile" or clicking "change" next to your location information on the Account Details page. Adding information is completely voluntary.
Your Profile Page: You can access your Profile Page by clicking "View" next to "Your Profile" on the Account Details page. From your Profile Page, there are links to add or change your profile information, location, photo, and Communication Settings, in the same manner as described for the Account Details page. If you are unsure what profile information of yours is viewable by other users, you can click on "View your Profile as others see it" on the top of your Profile Page.
Fold3 Profile page: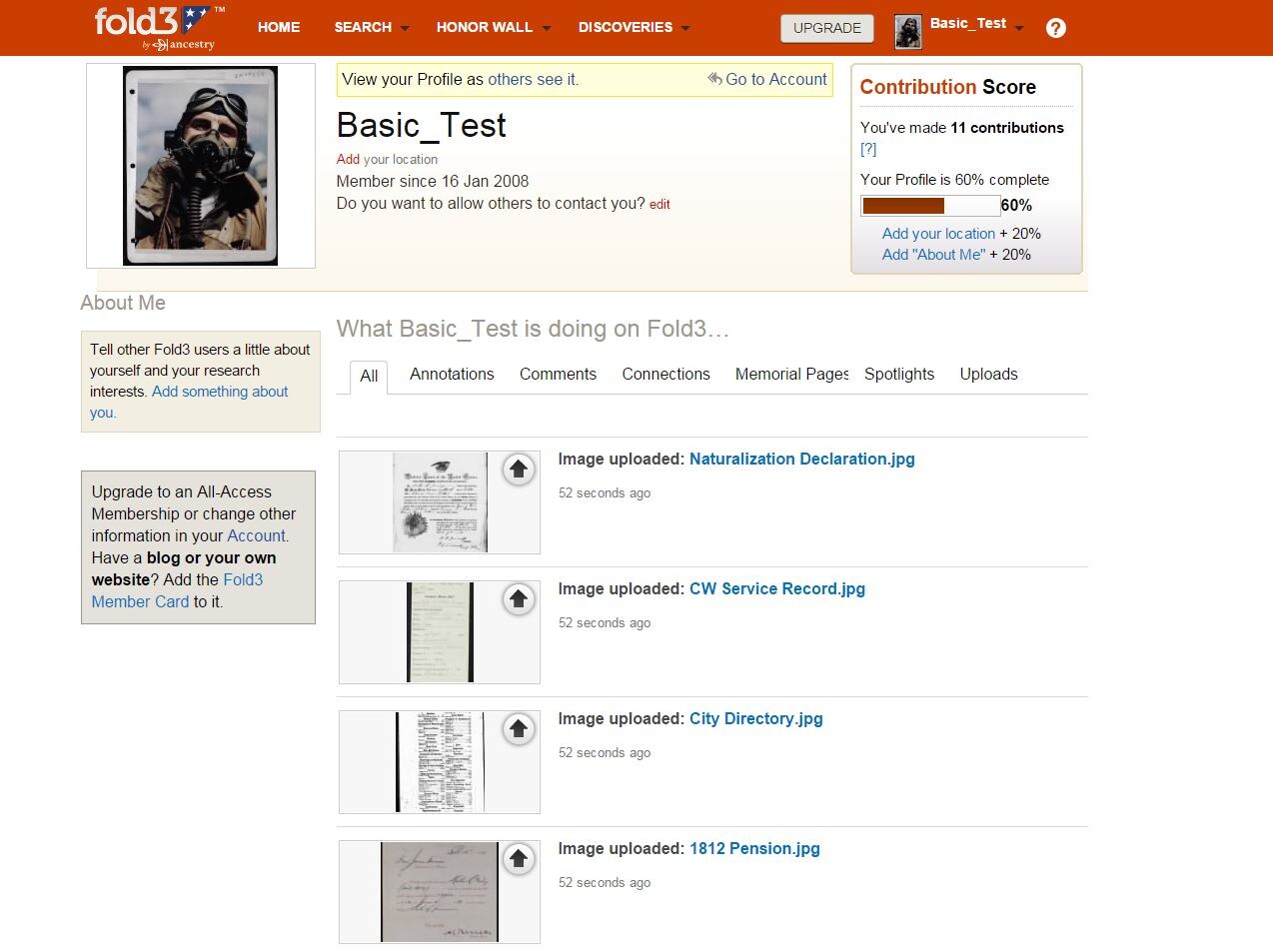 2. A special note about historical documents
Fold3 obtains large collections of historical documents from various sources and converts the documents into a digital format so that Users may see a facsimile of the original. Fold3 and its affiliates and agents take reasonable steps to assure that the documents do not include sensitive personal information (such as Social Security Number) about living individuals. If you believe that a document published by Fold3 violates your privacy rights, please contact us here and we will attempt to resolve the matter quickly.