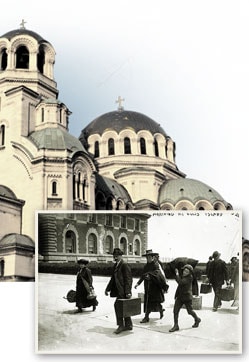 FINDING ANSWERS:
Your immigrant roots.
On Who Do You Think You Are?, actress, producer and singer Rita Wilson began searching for her late father's European past a lot closer to home, with
family stories and a New York marriage certificate that listed his birthplace. It was this clue that sent Rita on a journey to Bulgaria in search of her father's childhood home, where she uncovered details about his early life and the astonishing struggles she'd never even imagined. Miss the episode? Watch it on NBC.com.
To get to the heart of your immigrant family's early life
– and understand what sent them after the American dream – you need to first discover where they came from. And you don't just want a home country, you want a hometown. Start your search in the following records created in the United States.
Census records
You may not find a hometown, but you could find a home country and a year of arrival, both of which can lead you to a passenger list with details about someone's entry into America.
Passenger lists and border crossings
Pay close attention to relatives back home, their birthplaces and last permanent residences, if listed. Look for other family members' passenger lists, too.
Naturalization records
If your family's first immigrant became a naturalized citizen of the United States, there should be a very detailed paper trail to prove it.
Draft registration cards
Check collections from World War I, World War II and even the Civil War.
Your own collection
Search the attic for mementos, including wedding announcements, postcards and
letters that might mention relatives who didn't immigrate, plus other family members
and their addresses.